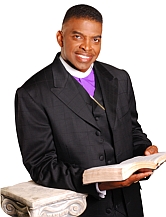 Bishop Jerry F. Hutchins
A native of Lithonia, Georgia, Pastor Jerry F. Hutchins was licensed to preach in 1982 at Salem Baptist Church in Lilburn Ga. He began his first Pastorate in 1984 when he was called to the St. Galilee Baptist Church in Sparta, Ga where he led for 3 years. In 1987 he was called to Pastor the Timothy Baptist Church, Athens, Georgia.
In January 2007, Bishop Hutchins started a Bible Institute in Stone Mountain, Georgia to provide mid-week Bible classes for the members of Timothy who lived in the metropolitan Atlanta area. That Bible Institute led to the organization of a second church, Kingdom Now, which Bishop Hutchins launched in November 2008. In December 2016, Bishop Hutchins officially retired as Bishop of Timothy Baptist Church and devotes his full time as Senior Pastor of Kingdom Now Ministries.
Pastor Hutchins is passionate about biblical knowledge and understanding and has earned several degrees which include a Bachelors Degree in Biblical Studies, a Masters of Art in Ministry, and a Masters of Divinity. He also serves as a Visiting Instructor at Beulah Heights University in Atlanta.
Pastor Hutchins is founder and CEO of Jerry F. Hutchins Ministries, Inc., an organization dedicated to teaching and spreading the message of Jesus Christ to everyone throughout the United States and to the Nations.
Bishop Hutchins and his wife Sheila are also entrepreneurs. Together they created Skanvelope, an innovative company developed technology to scan and process contribution envelopes for churches and various printed material for businesses.
Pastor Hutchins is a covenant partner with the Full Gospel Baptist Church Fellowship. In November 2004 he was appointed to the office of State Overseer of Georgia and in July 2006 Pastor Hutchins was officially consecrated as a Bishop in the Full Gospel Fellowship under Bishop Paul S. Morton. He faithfully served as State Bishop until February 2008, when he was elevated to the international level and appointed Bishop of Policy and Procedure.
In addition to being a devout man of God Bishop Hutchins is a committed and dedicated family man. He and First Lady Sheila Hutchins have been happily married since 1975 and currently reside in Covington, Ga. To this holy union they have one daughter, Kisha Gresham, a son-in-law Patrick and a granddaughter, Brittany.